Shoulder impingement is caused by pinching and compression of the rotator cuff tendons and the bursa (fluid-filled sac) between the upper arm bone and the shoulder blade. The problem may result from poor control of the shoulder blade stabilisers or rotator cuff muscles of the shoulder, a poor position of the shoulder blade, tight structures of the shoulder or a congenitally hooked acromion which reduces the space for these tissues to move. Chronic impingement problems will often lead to damage to the rotator cuff tendons. The condition is also know as swimmers shoulder, throwers shoulder or painful arc syndrome.
Symptoms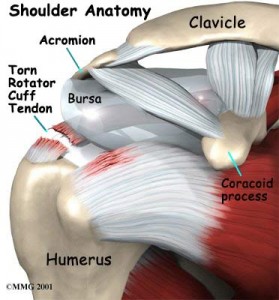 Pain and weakness with overhead activity and throwing motions.
Painful restriction of full elevation of the shoulder.
Pain is usually located at the front or outside of the shoulder, although it may present in the back of the shoulder or radiate down into the arm.
Pain with sleeping on the effected side.
Management
Initial management of the condition is rest from aggravating activity such as overhead movement and sleeping on the effected side. Ice and anti inflammatory mediation can be useful in calming the irritated tissue and reducing pain.
Accurate diagnosis by your physiotherapist as to the cause of the impingement is imperative to success of the next phase of treatment. This will generally involve stretching and tissue release to restore correct shoulder blade alignment and to free up the movement of the shoulder joint. In the presence of a hooked acromion or bony spurs into the joint, surgery to correct this deformity may be necessary.
The final stage of management will generally involve stability exercises for the shoulder blade muscles and rotator cuff muscles to restore normal movement patterns and reduce the risk or re-injury in the future.