A spondylolisthesis is a forward slip or movement of one vertebra in the spine on the one below.  It is often now also referred to as a restrolysthesis.
What is it
The injury is graded from 1 to 4 depending on the degree of slip of the vertebra on the one below. Spondylolisthesis can be either isthmic or degenerative.
Isthmic spondylolisthesis
The most common form of the condition results from congenital or traumatic defect to a part of the vertebra known as the pars interarticularis.  Traumatic defect to this area of the vertebra is usually a result of repetitive strain from activity involving repeated extension (leaning backwards) of the spine such as serving in tennis, fast bowling in cricket and gymnastics and as such generally develops in the younger population.  This can result in stress fracture and chronic non union of this part of the spine.
Degenerative spondylolisthesis
Occurs as a result of degenerative changes to the disc and facet joints of the spine, allowing the top vertebra to slip.  This is generally a disease of the older adult.
Symptoms of Spondylolysthesis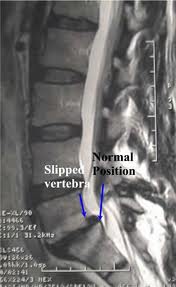 In lower grade injuries, symptoms reported often include generalised backache that occasionally radiates into the buttock or the back of the legs.  This is usually associated with activity involving extension of the back such as walking and tends to be settled with sitting and forward bending type activity.
The more severe grades of injury will often result in pain, pins and needles and weakness in the legs.  This is caused by compression and restriction of the nerves supplying the muscles and tissues of the leg as a result of the forward slip.
Management
Management of the injury depends on the degree of slip and the symptoms being experienced.  Generally conservative management is the first port of call and will usually involve activity modification to avoid extension activity.  Physiotherapy focuses on manual therapy and core stability exercises to take load off and improve the segmental stability of the effected level.
In the event of failure of conservative measures or in the presence of serious compromise to the nerves, a surgical approach may be necessary.