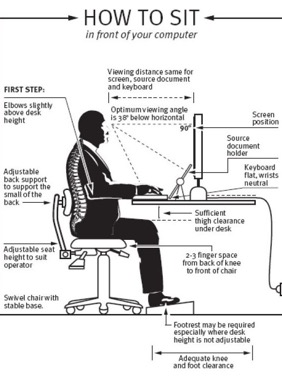 The first step is to ensure your chair is at such a height that your elbows are slightly above the desk height when your shoulders are relaxed.
Your feet should rest comfortably on the floor (or, if necessary, on a footrest).
When your feet are properly supported, they assist you to maintain appropriate lower back support.
The appropriate distance from the viewer's eyes to the screen should be approximately 50cm to 70cm (or arm's length).
The top third of the monitor should be approximately at eye level when looking straight ahead.
Adjust monitor brightness and contrast to a comfortable setting.
Ensure the keyboard and mouse is kept close to the edge of the desk when typing to minimise the strain on the shoulders.
Wrist should be slightly extended (10 degrees) and hand in line with the forearm whilst keying or using the mouse.
Reference material should be placed as close as possible to the monitor screen. It should not be placed between the user and the keyboard.
Phone, folders etc. within easy reaching distance without the need to twist body or stretch from a seated position.
Headsets should be used for prolonged or repetitive telephone use.
To minimise eye strain, vary your activities where possible. Try to look 20 metres or more away from you for 20 seconds every 20 minutes or so.
Most injuries occur with prolonged postures or repeated activities, therefore, Rest Breaks are important. Take advantage of morning and afternoon tea breaks as well as your regular meal breaks to rest.
Alternating between different tasks can also give some body parts a rest from prolonged postures and/or repeated movements.
Drink plenty of water. Get up and move around regularly.
If you have any questions about your workstation, please report them to your Manager (preferably before the onset of any symptoms).
Save
Save
Save