What is it?
A tendinopathy occurs when the tendon in question experiences a change in load that surpasses what it can handle. It is essentially an overuse injury. This overuse leads to inflammation, pain and reduced range and strength of the associated tendon. A peroneal tendinopathy is one of the common causes for lateral (on the outside) ankle pain and will present as pain and/or swelling in the lateral ankle that is aggravated by activity and relieved by rest. It is commonly found in running athletes, as well as change of direction and jumping sports such as ballet, basketball, netball and skiing.
Relevant anatomy
The peroneus longus and brevis are located on the side of the calf and are important stabilisers for the ankle joint. They are foot evertors which means they help bring the foot outwards and aid in preventing sprains to the ankle joint.
The common pain presentation of peroneal tendinopathy is shown below;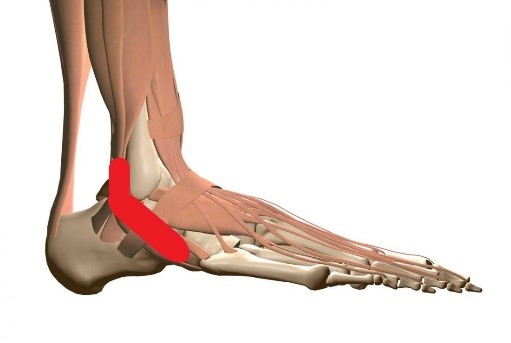 What causes it?
Inappropriate footwear – e.g. big change in styles, or too old
Poor load management – big changes in the amount of activity over a given period are likely to flare tendon tissue. Commonly this may be returning to training after an extended break or increasing mileage in your running program
A recent acute ankle sprain or history of ankle instability
Poor foot bio mechanics such as over-pronation of the foot or excessive eversion of the foot
Tight calf muscles
Peroneal tendinopathies are primarily overuse injuries. Some of the common contributors to peroneal tendinopathy may include:
Diagnosis
A thorough subjective and objective examination from a physiotherapist can accurately diagnose peroneal tendinopathy. An MRI or ultrasound may help confirm the diagnosis but is not normally necessary.
Management
Management of peroneal tendinopathies should be a multimodal approach which looks at the underlying issues behind the development of the condition. This may include a combination of:
Load management to allow enough opportunity to reduce sensitivity of affected structures
A progressive strengthening program to increase resilience of the peroneals and other muscle groups in the kinetic chain
Assessment of running gait and footwear to change biomechanical factors if necessary
Improving flexibility through the calves
Manual therapy to help relieve sensitivity and improve flexibility
A gradual return to activity
In a nutshell
Peroneal tendinopathies can be frustrating injuries if not managed correctly. Quite often we see poor load management combined with bio mechanical factors as the driving forces behind this injury. Once these variables are controlled, we tend to see quick improvements in a person's pain and function. If you feel this pain presentation is familiar to you, please contact one of the physiotherapists at In Balance and let us help you get back to doing what you love.